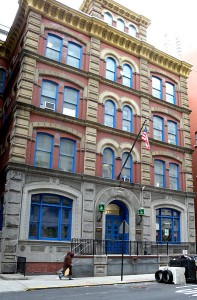 Technically, you aren't obligated to go to the station house. You have been invited to go, to review video footage. Perhaps this will help identify the "emotionally disturbed person"—the "EDP," in police parlance—who attacked you with a blade in broad daylight two days earlier. The detective assigned to your case, Detective A., even offers to stop by your apartment building, in an unmarked car, and give you a ride. Your mother, who screened the detective's call before handing over the phone, is welcome to accompany you.
You've never stepped inside a police station before—unless you count the mobile unit outside the subway in Madrid, where you'd frantically reported a pickpocketing episode in 1989 (you were a college student and the pickpocket had snatched everything: your cash, credit card, passport, and airline ticket home), and the slow-moving officers on duty practically laughed in your face and told you that this wasn't anything serious and that the same thing could have happened just as easily back in Nueva York. So it isn't as though you have a preconceived image of what to expect.
The New York City precinct in which you reside, and in which you embarked on a jog Sunday afternoon never expecting to have your forehead slashed and your nose broken, is Manhattan's 19th Precinct. The southern segment of this particular neighborhood cluster, as the NYPD website notes, includes "a large commercial area and the famous avenues of Madison, Lexington and 3rd, well known for their shopping. There are also many dignitaries and diplomats that reside or own real estate within the precinct. There are currently 32 foreign mission, 12 consulates, and 70 ambassador and counsel general residences."
In its northeastern quadrant, the precinct encompasses Gracie Mansion, that pretty pastel building that was designated during the administration of Fiorello H. LaGuardia as the official residence of the New York City mayor. The current mayor, Michael Bloomberg, has opted not to live in Gracie Mansion; he remains in residence at his townhouse closer to Central Park (yet also within the 19th Precinct). But Gracie Mansion is still used for city functions. Anyone walking or jogging on the path along the East River—like you were on Sunday afternoon—passes it. And it's hoped that one of its security cameras may have captured your assailant's image, even if the attack itself occurred out of range.
So you are willing to get in the car and go to the station house. But as Detective A. and his female colleague, Detective M., lead you inside, you can't help noticing how shabby the place is. Detective M. greets a few people who don't seem to work there; they're accompanied by bags of belongings, sitting or standing around. It dawns on you that these are homeless people, and that this January day is likely not the first time that they've used the 19th Precinct station house as a shelter from the cold.
"Our elevator doesn't work," Detective A. apologizes. In fact, it hasn't been working for two years. And the video is set up on the fourth floor.
You look at your mother, whose received her first pacemaker 12 years earlier. She was 50, then, and her heart had stopped during a test intended to help determine why she was having all of those fainting spells. Sometimes, you joke about how you seem to have inherited your most annoying bodily characteristics from the X chromosome your father gave you—your paternal grandmother's intense nearsightedness, her heavy thighs, the fibroids that led to her hysterectomy and will eventually lead to yours. But so far, it seems that you've escaped the cardiac troubles that killed your mother's mother and continue to make you anxious for yours.
"I'll be fine," your mother assures you.
You begin the climb upstairs. "What happens when elderly people come here?" you ask. Not to mention anyone in a wheelchair. This place can't possibly be ADA-compliant. How is that allowed?
There's no answer. And that's just the start. At this point, you've been back in a full-time, 9-to-5 office job for two years, so you know that little things like email and voice-mail systems and up-to-date computers sure can make your job easier. And quite frankly, your job isn't a matter of life and death. You're no tech guru, but even you can see how antiquated the detectives' computers are, and when you ask, you're stunned to find out that even these "tools" they've had only for a short time. There's no voice-mail here, either, as you'll discover for yourself in the coming days, each time you call Detective A. Because you can't email him.
You're inspired to ask more questions. You learn that the toilet paper and soap on the premises are provided courtesy of those who work there—apparently the city doesn't offer those benefits in this particular workplace. Worse, the building is infested with rats, roaches, and other pests. "We're the exterminators," the detectives tell you, cheerfully. Not that anyone receives extra payment for that service.
The footage-viewing, by the way, is a bust.
You're determined to return to work, and you insist on doing so by Wednesday morning. There's a big monthly meeting scheduled, a meeting where you always record the minutes. Your mother, who essentially hasn't left your side since the ambulance brought you to the emergency room, insists on accompanying you on the short walk to your office.
Later, you'll realize that although everyone had heard about what happened—not only because you had your fifteen minutes of fame on the local TV news and in the papers, but also because an email had gone out; your office, too, is located in the 19th Precinct, only a few blocks from Gracie Mansion, and since the EDP has not yet been caught, everyone is being urged to exercise caution—it was probably a little jarring for people to see you. Only three days after the attack, bruises still stare out beneath your eyes. A big white bandage plasters your forehead to conceal three dozen stitches. As much as you try to pay attention, you can feel yourself losing focus midway through the meeting. Your eyes want to be closed. You fight them for a few minutes, but eventually you gesture to your supervisor across the table. Then, you gather your things and you leave the room.
It turns out that you wouldn't have stayed at the office all day in any case, because the police ask you to return to the station house. They may have a suspect; they want to assemble a lineup.
Back you go. By now, the detectives are becoming old friends. You continue to experience a sense of outrage, on their behalf, for their poor working conditions. And as privileged as you are, you aren't completely naïve. It has already occurred to you that if conditions are this bad in the high-end 19th Precinct, they must be infinitely worse elsewhere in the city.
True to what you've seen on  Law & Order, you're assured that no one will be able to see you standing there on your side of the glass. You look out into the faces of a line of black men. The mix of anger and shame and sadness that you see in those faces makes your heart skip ten beats.
No one standing there matches the image in your memory of your assailant. The session ends. The detectives gather at the door, pooling dollar bills. This, you learn, is how people are recruited—and paid—for assuming the role of suspect.
You don't know what you can do for those men in the lineup. But you think that you just might be able to do something for the detectives.
You're a word person. So you talk. When you share the elevator with a woman in your office whom you know is married to a powerful politician, and she asks how you're doing, you mention how outrageous you think it is that the police in the precinct must purchase their own toilet paper.
And you write. You write a letter to Mayor Bloomberg. You start with the praise. You tell him how the very morning of the attack you had been watching the Sunday news shows document his trip to Israel, a solidarity visit undertaken at the outset of Operation Cast Lead. You tell him—and this is absolutely, 100-percent-the-truth—how much you admired and appreciated his action. (You don't tell him what your mother said that night, only half-joking: that you would have been safer traveling with the mayor to the Mideast than you were jogging behind "his" house along the East River.)
You tell him what happened behind Gracie Mansion. You tell him how wonderfully you were treated at the New York-Presbyterian Hospital and that you've returned to work (you specify, because you think it may matter, that you work at the central office of the city's public university system). Most of all, you emphasize the aid and support you've received from the NYPD.
You tell him what you noticed and learned during those two visits to the precinct building. You provide a bulleted list of the problems.
Mr. Mayor, you write. In my job, we are very focused on how we can facilitate student success. We strive to provide students with everything we possibly can to help them 'do their job' of learning, and we work hard to remove any obstacles we're able to discern. Surely, the police deserve similar consideration. Surely, they merit the technology and basic 'amenities' ('amenities' seems inappropriate when talking about toilet paper, soap, a working elevator, and a pest-free environment) that will enable them to go about their very important work most efficiently and effectively.
You thank him for his attention and express your confidence that he will continue to make you proud to be a New Yorker.
The therapist that you're seeing—she specializes in post-trauma work, and you'll see her only a few times—suggests that you share the letter with Detective A. She thinks that he'll appreciate it. So you mail him a copy, because, as you know, he doesn't have email.
A few days later, Detective A. telephones. He wants to arrange a meeting with a sketch artist. So you work out those details.
Then Detective A. clears his throat. "About your letter," he begins.
At first, he tells you, the letter worried him. He brought it to his supervisor right away. It hadn't occurred to you that you might have caused trouble for him or his colleagues. Certainly, that was never your intention.
"But guess whose truck is parked outside right now?" he continues.
It's the truck of the elevator repairman.
For the first time since the attack, you smile.
Erika Dreifus, author of Quiet Americans: Stories, writes fiction, essays, poetry, and reviews. "At the Station House" is one in a series of linked essays concerning an assault that took place in January 2009. More about Erika's work: www.erikadreifus.com.